Who is Ian Walmsley?
So you are wondering about me and what makes me tick?  Why am I passionate about property? Why do I have various property brands?
I guess I am an entrepreneur and love to create business opportunities, not just for me but for my various business partners as well. Seeing them make money keeps me going.  Why? Well I am making money as well! I do not hide from that fact. I tried for many years to get the mortgage company to take goodwill, but they seem to just want money. So now I genuinely enjoy making others money. Life must be a win-win for all parties. 
Please read on to discover the real Ian Walmsley and learn about Planning Geek®, Leading Homes, Property on Fire, Travel Geek, Drone Geek and how they are all wrapped into isdoo Ltd.
The Early Days
My name is Ian Walmsley and I have been developing property full time since 2013. I was brought up as a third generation developer and funeral director. Yes, you did read that correctly!! I was born and bred in Essex, but now live in the South West. 
This was very common from the early 20th century as many funeral directors were also builders. My grandfather built one of the first estates in what is now Basildon. So my love of developing was in the blood!
The Walmsley family have been involved in property for around 90 years developing homes around the UK.
Albert Walmsley started the family's passion for property in the early 1930s by building an estate in Laindon, Essex. This was several years before the village's neighbour Basildon was created as a new town. Part of this estate still remains to this day. The picture above shows my grandad Albert Walmsley assisted by his wife Ivy in a local carnival in the early thirties.
I am continuing in my grandfather's footsteps by offering an ethical property business.
The Websites and the last 10 years or so…..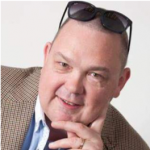 Having left the funeral business and brought up my two children, I moved back into property in 2010 and started to renovate houses in Essex, Kent and Lancashire with my wife, Sheryl.
In 2015 I launched Ian Walmsley Property, Guarantee My Rent, Land & Gardens and Supported Sales. Although I trained in Serviced Accommodation and set up Posh Stays, the website never launched due to time constraints and the lack of a suitable partner. Contact me if you are interested.
In 2017, I created Planning Geek® as I was fed up with inaccurate information on the internet about planning. This has been very much self taught over the years and I now speak to groups large and small about planning and in particular Permitted Development. The site now consists of around 300 pages and is the largest planning sites in the UK, apart from the national government portal. A chartered town planner said 'Ian Walmsley knows more about planning than most planning authorities!'. 
I now have a very active Facebook Group which has over 6,000 members and is growing daily. 
But I am so much more than just a Planning Geek®
In 2018 Jonathan Stobbs and I formed a business relationship to take Leading Homes to a new level as a regional developer. We now have around 80 dwellings in construction, planning or legals worth a combined GDV of over 55 million pounds. In addition we work with new developers around the UK assisting them on their projects to give them a helping hand. This guidance extends to our own Earn & Learn scheme where investors learn on the 'coal face' whilst also earning interest on their investments. 
In 2022 we re-launched our company Land and Gardens as The Land Company – this is now a national company assisting land owners throughout the UK. We give our unique TLC approach to those who have owned their land and now see the potential in developing it.
Mentoring and Training
What is the point in having knowledge but keeping it to yourself? Property is fairly unique in as much as people like to assist others in their journey. I have a number of mentees, but am not a fan of large groups of mentees – so I focus on one-to-one mentoring, This takes the form of hourly zoom sessions or more formal annual mentoring with half or full days spent together moulding the journey of the mentee. These are proving very popular and so there is often a delay before I can take on new mentees. 
In addition to being a mentor, I speak to larger groups. This might be online or in the room from the stage. I have spoken to groups of a few hundred so very much feel at home sharing my love for property. To date I have spoken to mentoring groups, property meetings, private companies and national events throughout the UK and abroad. I am retained as the planning and development expert by a number of well known mentors.
I actually walk the walk rather than just talking the talk. So others will benefit from my mistakes so that they can avoid the same ones! Or that is the plan!!  My family has been in the property business for 90 years. There have been so many ups and downs, I could write a book!
Please get in touch if I can help you in your property journey. 
Spare Time
In my spare time (honest, I do have some!), I am a bit of a TravelGeek – I enjoy researching the cheapest way to fly to any part of the world whilst at the same time flying in business or first class. I often pay considerably less than the business fare and often less than premium economy, whilst enjoying the comfort of business or even first class travel. If you are friends or follow me on Facebook, you will see me posting from some odd places and luxurious lounges.
I am also a commercial drone pilot – Drone Geek – and enjoy flying one of my drones at 400 feet to relax and switch off (me – not the drone!). But having trained and qualified as a commercial pilot I can now fly on and around my development sites to record their history from above. 
If all this wasn't enough I wrap a lot of my passions into a regular podcast – Property on Fire – in this podcast I answer questions from listeners and have been known to have the odd rant or two……
isdoo Ltd
I have several brands as you have read, but ultimately these are now all wrapped up in my company isdoo. Whilst the limited company was only recently formed the 'brand' has existed for around 25 years and pretty much sums up part of life's journey. I always spell isdoo with a small i. Let me explain and why it is firmly part of Ian Walmsley.
When my children, Bethany and James were young they had a plastic mat which I called the 'isdoo mat' as a joke. Of course they corrected me everytime I said it. I was reading it upside down.  They kept telling me that it said oops! and so isdoo was born.  So next time you see isdoo Ltd or isdoo <anything> you will now know that it all started from a child's play mat!
Life is very much oops! at times but then you learn from your mistakes, pick yourself up and move on – trying not to repeat that oops! moment! Have an isdoo experience instead!
Today and beyond!
As you can see from the history above when I speak, I speak with a lot of history and experience behind me.
When I mentor, I am not mentoring having been in property for 5 minutes. I grew up with developing from when I was a small child. It has been in the blood and I can help others with my long experience of the good and bad times. There is no point in being with people who have not seen the rough with the smooth.
Please feel free to Contact Me if I can assist you in your journey.
My name is Ian Walmsley and thank you for reading about me, my life and what makes me tick…..